Tinnitus Treatment & Care
Tinnitus is a medical term that describes a buzzing or ringing-like noise in one or both ears.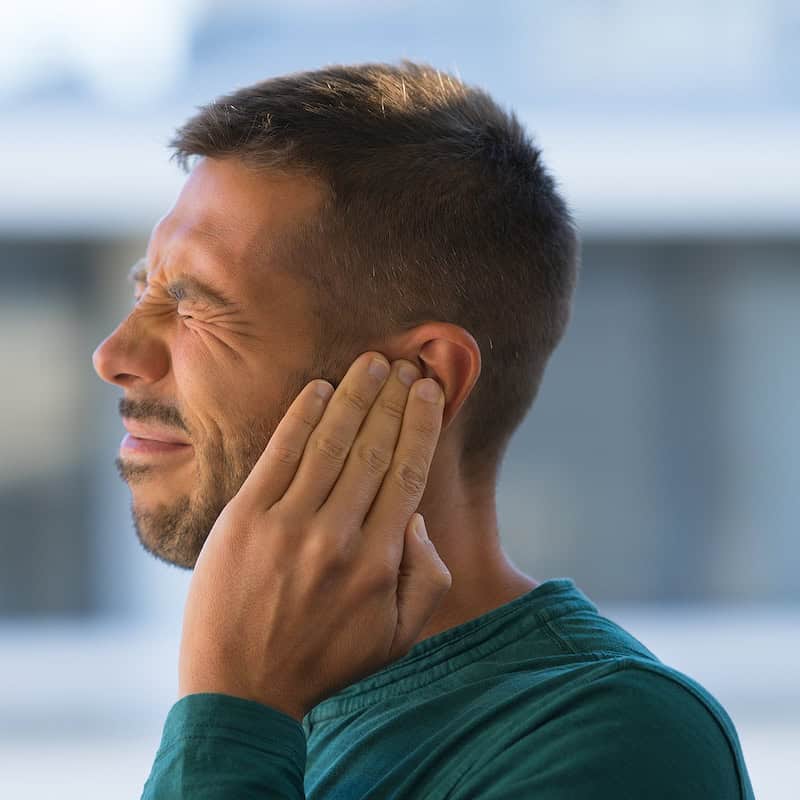 Tinnitus is one of the most common symptoms of hearing loss but can also be experienced without a hearing loss diagnosis. It can be an unpleasant and frustrating experience that affects sleep, concentration, and general wellness.
More than 50 million Americans suffer from chronic ringing, whooshing, or other sounds that characterize tinnitus. Most sufferers of tinnitus face multiple adverse side effects that can severely impact their daily lives. Some people have even complained about emotional issues and depression. They feel plagued by this sound, which feels like it will never go away. They're afraid the noise will only increase as time goes on.
Fortunately, tinnitus can be treated, and many people with tinnitus have handled their symptoms effectively, helping them to continue their lives. We are able to recommend effective strategies for tinnitus management that alleviate its impact. Hearing aids are also a useful way to address tinnitus. If you are experiencing tinnitus, please do not hesitate to make an appointment with us. 
request an appointment
Symptoms of Tinnitus
There are a number of different symptoms for tinnitus, but the most common include hearing the following sounds:
Ringing
Buzzing
Whooshing
Hissing
Clicking
These sounds are heard only by the person experiencing the tinnitus, but can sometimes be detected by a hearing professional. These sounds can be heard constantly or intermittently. Some people have problems sleeping when they have tinnitus because they feel as though their brain never "shuts off."
Causes of Tinnitus
There are several factors that can cause tinnitus, including the following:
Exposure to loud noise
Medication
Hearing loss
Ear infection
Trauma to the ear
Earwax buildup
Meniere's disease
Vascular disorders
Tinnitus may be caused by one or more of these conditions and some can be resolved easily if the cause is temporary, such as an infection or a buildup of earwax.
Tinnitus Treatments
Depending on the cause of your tinnitus, there are a number of different treatment methods available to help you find relief. Your hearing care provider will assess the severity of your tinnitus, symptoms, how it impedes your daily life and possible causes and recommend one of the following solutions.
Address the problem:

If your tinnitus is due to earwax build up, medication or infection, they'll recommend the proper course to resolve the issue. This may include removing the earwax, switching medications or antibiotics. Behavioral therapy may also be recommended to help treat the varying emotions you may experience with tinnitus, from anxiety to anger.

Hearing aids:

Hearing devices are incredibly helpful in treating tinnitus. Even if a hearing loss isn't present, hearing aids can be equipped with tinnitus-masking features that help cover the tinnitus and offer relief from the unwanted noise.

White noise machines:

If your tinnitus isn't as severe or only experienced at night time, a white noise machine may be ideal for helping you find relief. White noise machines produce a steady sound to help mask the tinnitus noises you hear.

Tinnitus retraining therapy (TRT):

TRT is a form of therapy designed to help individuals with tinnitus find relief. This therapy involves retraining your mind to block out and hear certain tones, which in turn, helps to ease the symptoms caused by tinnitus.
If you are suffering from tinnitus schedule an appointment with a hearing professional to be
evaluated
. The hearing provider will work to identify the cause behind your tinnitus and recommend the appropriate treatment.
Kathryn Thompson
2021-10-22
Robert Rathbun
2021-10-22
Mara is great and always concerned that you are pleased and everything is right before you leave.
Larry / Lucille Tobin
2021-10-22
Rebecca McGinnis
2021-09-22
Dr. Bailey and her assistant are amazing! The office is beautiful and they are super nice and personable. Dr. Bailey is extremely knowledgeable and is wonderful about figuring out what works best for me. Great experience!
Mara, Thanks for the thorough cleaning of my hearing aids
Jacalyn Anderson
2021-09-07
My son has been a patient for many years and has always received the best care and service.
The staff was courteous. Dr. Bailey conducted the most thorough hearing test I had ever experienced in a professional manner. She shown herself to be very knowledgeable was pleasant to work with. I recommend Dr. Bailey at her clinic very highly.
Brigitte Henry
2021-08-30
Haven't met the doctor yet, but Mara is a peach!!
Marie St,Romain
2021-08-27
Today's visit was great. Kind thorough care was given. It was a pleasure being with Audiology Hears.
Steve Clarkson (Complete Home Inspections)
2021-08-19