Diagnostic Audiologic Evaluation
If you have been referred for a diagnostic audiologic evaluation, it means that your hearing needs to be further examined. A diagnostic audiologic evaluation may be indicated for individuals who did not pass an initial hearing screening.
The hearing test is done to determine if a hearing loss is present and, if so, to detail the type and severity of the hearing loss. It also may provide insight into the cause of the hearing loss as well as provide guidance for the audiologist in making appropriate treatment recommendations- or referrals to other professionals.
What Tests Will Be Done?
The specific tests done during the evaluation will depend on the patient's age, symptoms and medical history. These various tests will determine the degree of hearing loss, the type of hearing loss and the conditions of the ear canal and middle ear. The audiologist will also establish if the hearing loss is conductive (middle or outer ear problem) or sensorineural (inner ear problem or an issue with the auditory nerve and central auditory pathways).
At a minimum, a diagnostic audiologic evaluation includes pure-tone testing, bone conduction testing and speech testing.
Call today to schedule your evaluation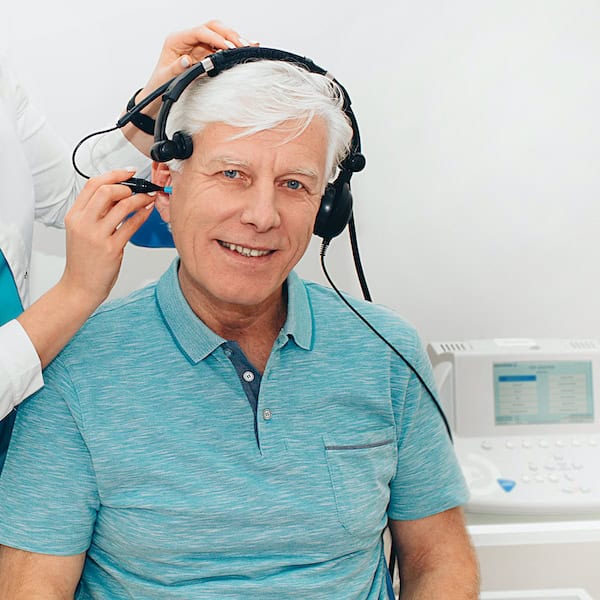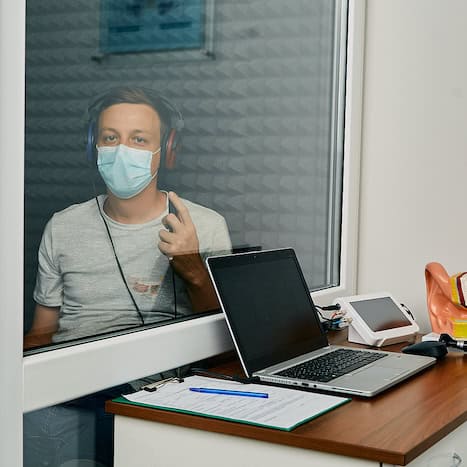 Pure-Tone And Bone Conduction Testing
Pure-tone testing determines the quietest tones that a person can hear at different frequencies, both low and high. Bone conduction testing is similar to pure-tone, however, a different type of headset is used to provide the audiologist with different information. A bone conduction test will help the audiologist determine whether the loss is conductive in nature or sensorineural.
What Can I Expect During A Diagnostic Hearing Evaluation?
The evaluation will last about 30-40 minutes in length. You should also allow time for discussion with the audiologist to review test results and ask questions.
If the results indicate you need hearing aids, allow for sufficient time to discuss your options.
It is recommended that you bring a family member with you to the evaluation appointment. Most audiologists agree that hearing loss is a family issue. It helps to have another supportive person at the appointment to help you understand the information and recommendations.
Before your appointment, a complete medical history will be completed and the audiologist will want to hear about any complaints you have about your hearing. They will pay special attention to any concerns you have about exposure to noise, tinnitus and balance problems. Make sure that you take a full list of any medications and supplements you are taking with you to your appointment.
The diagnostic audiologic evaluation is a good chance to establish a relationship with your audiologist. Above all, don't be afraid to ask questions. You will want to be clear on any information you receive so that you can be an active participant in finding hearing solutions that work best for you and your lifestyle.
Call today to schedule your evaluation
Kathryn Thompson
2021-10-22
Robert Rathbun
2021-10-22
Mara is great and always concerned that you are pleased and everything is right before you leave.
Larry / Lucille Tobin
2021-10-22
Rebecca McGinnis
2021-09-22
Dr. Bailey and her assistant are amazing! The office is beautiful and they are super nice and personable. Dr. Bailey is extremely knowledgeable and is wonderful about figuring out what works best for me. Great experience!
Mara, Thanks for the thorough cleaning of my hearing aids
Jacalyn Anderson
2021-09-07
My son has been a patient for many years and has always received the best care and service.
The staff was courteous. Dr. Bailey conducted the most thorough hearing test I had ever experienced in a professional manner. She shown herself to be very knowledgeable was pleasant to work with. I recommend Dr. Bailey at her clinic very highly.
Brigitte Henry
2021-08-30
Haven't met the doctor yet, but Mara is a peach!!
Marie St,Romain
2021-08-27
Today's visit was great. Kind thorough care was given. It was a pleasure being with Audiology Hears.
Steve Clarkson (Complete Home Inspections)
2021-08-19